Overdid it at Christmas? Time to start that exercise regime.
Here's Professeur Dutronc with a quick aerobics lesson: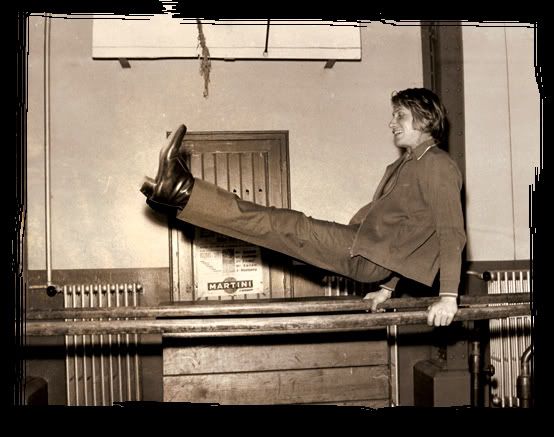 Jacques Dutronc - La Leçon de Gymnastique du Professeur Dutronc
[buy Jacques Dutronc from
iTunes
/
Amazon
]
As a child, I remember being taken along to the village hall to hang out with the other toddlers whilst our mums partook in the latest exercise craze 'Pop Mobility'.
Looking back, I can see this experience probably had more than a little influence on my musical tastes…
Let's start with a gentle warm-up:
Jean-Michel Jarre – Oxygene (Part IV)
[buy Jean-Michel Jarre from
iTunes
/
Amazon
]
Even the penguins have over-indulged during the festive season
(image courtesy of
retro trash
– look! This one's got
Space
on it!!)
Got those muscles all warmed-up? Time for a hi-energy workout, just keep something in reserve for when those break-beats kick in:
Hot Butter – Popcorn
[buy Hot Butter from
iTunes
/
Amazon
]
[

We love Popcorn round here! Verity is particularly fond of her French
Version Originale

7"
. The original was written by electronic pioneer
Gershon Kingsley
, but we think the Hot Butter version is the best. Someone's dedicated a
whole website
to the song (including an ace Russian surf-guitar version). Not even the Crazy Frog could spoil it! One day well dedicate a whole post to Popcorn.

]
At the end of each Pop Mobility session they would have a warm-down to Fleetwood Mac's Albatross. But we'll ignore that one...